Spotlight newsletters
Our online archive of Corsham Civic Society's Spotlight newsletter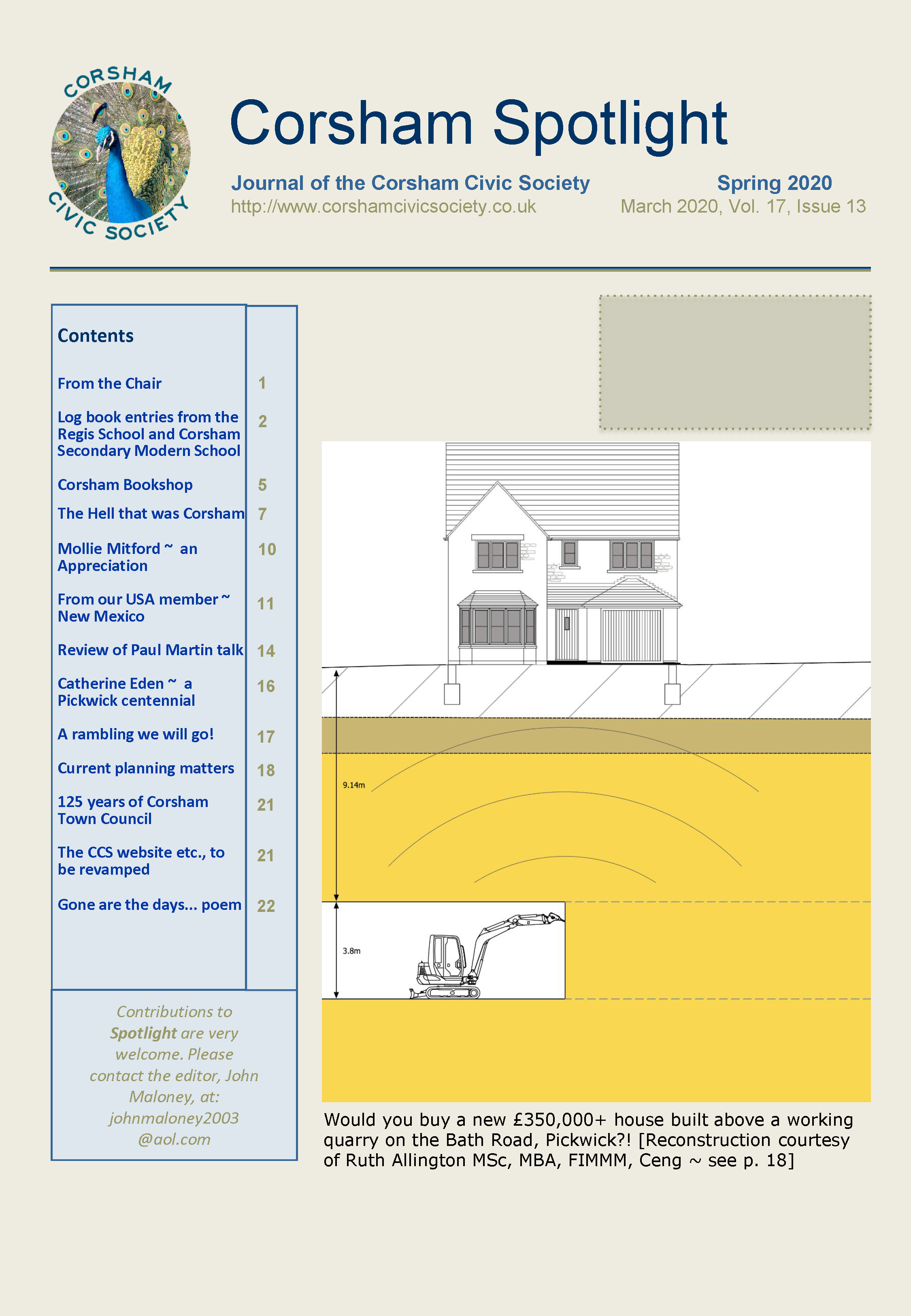 SPRING 2020
From the Chair
Log book entries from the Regis School and Corsham Secondary Modern School
Corsham Bookshop
The Hell that was Corsham
Mollie Mitford ~ an Appreciation From our USA member ~ New Mexico
Review of Paul Martin talk
Catherine Eden ~ a Pickwick centennial
A rambling we will go!
Current planning matters
125 years of Corsham Town Council
The CCS website 
Gone are the days… poem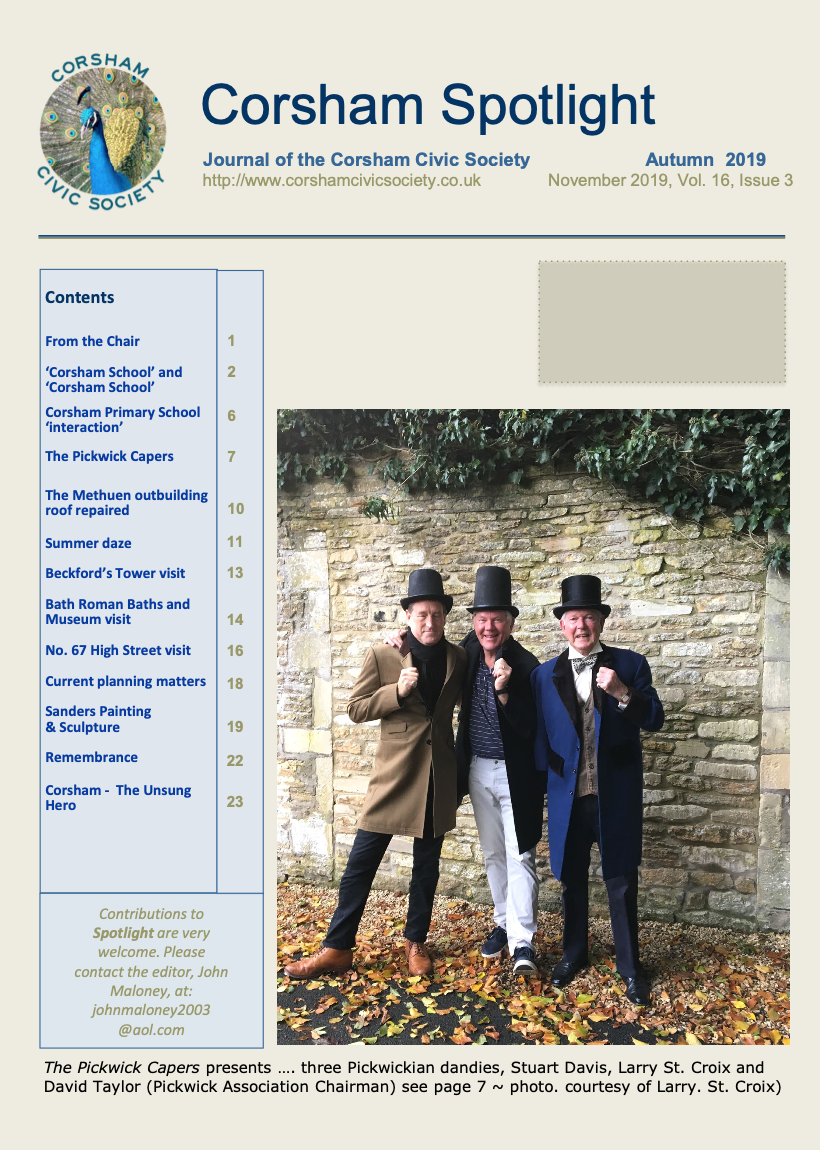 Autumn 2019
From the Chair

 

'Corsham School' and 'Corsham School'

 

Corsham Primary School 'interaction'

 

The Pickwick Capers

 

The Methuen outbuilding roof repaired

 

Summer daze Beckford's Tower visit

 

Bath Roman Baths and Museum visit

 

No. 67 High Street visit Current planning matters

 

Sanders Painting & Sculpture

 

Remembrance

 

Corsham – The Unsung Hero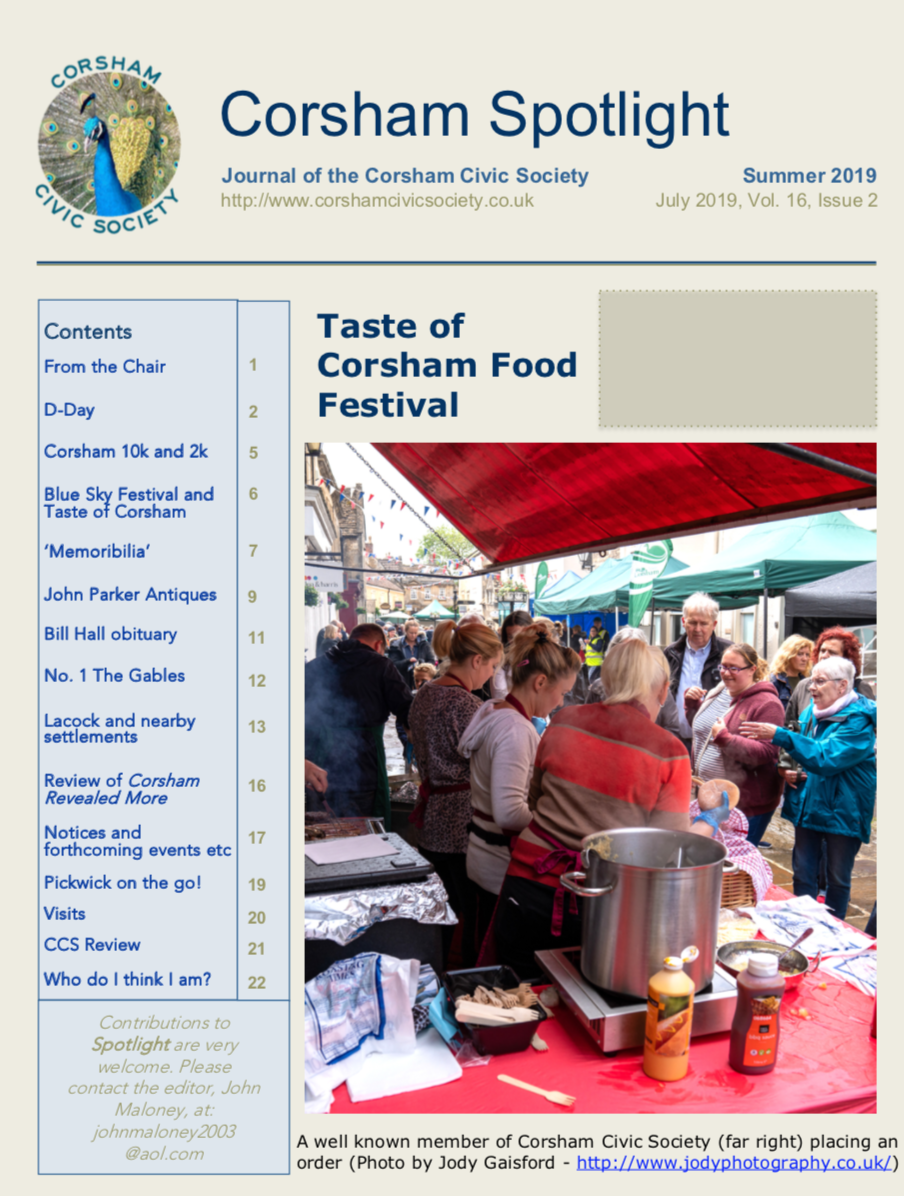 Summer 2019
From the Chairman
D-Day
Corsham 10k and 2k
Blue Sky Festival and Taste of Corsham
'Memoribilia'
John Parker Antiques Bill Hall obituary
No. 1 The Gables
Lacock and nearby settlements
Review of Corsham Revealed More
Notices and forthcoming events etc
Pickwick on the go!
Visits
CCS Review
Who do I think I am?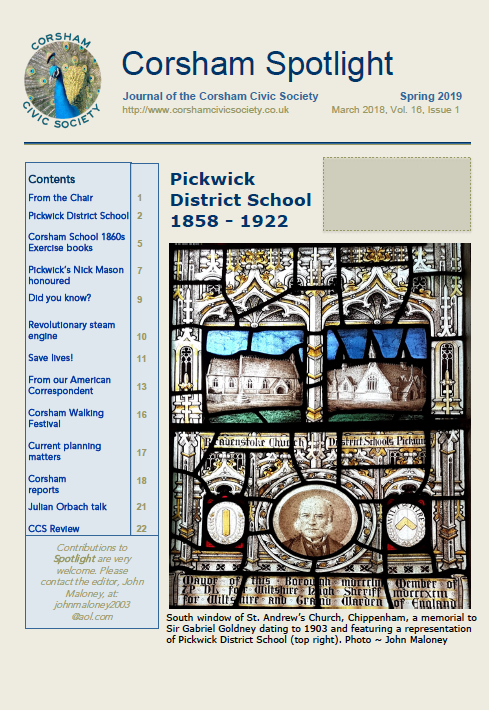 Spring 2019
From the Chairman
Pickwick District School
Corsham School 1860s Exercise books
Pickwick's Nick Mason honoured
Did you know?
Revolutionary steam engine
Save lives!
From our American Correspondent
Corsham Walking

 

Festival
Current planning

 

matters
Corsham reports
Julian Orbach talk
CCS Review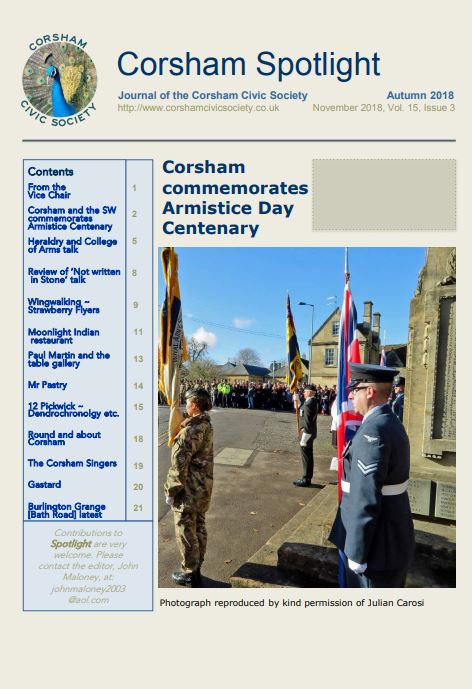 Autumn 2018
From the Vice-Chairman
Corsham and the SW commemorate Armistice Centenary
Heraldry and College of Arms talk
Review of 'Not written in Stone' talk
Wingwalking ~ Strawberry Flyers
Moonlight Indian restaurant
Paul Martin and the Table Gallery
Mr. Pastry
12 Pickwick ~ Dendrochronology, etc.
Round and about Corsham
The Corsham Singers
Gastard
Burlington Grange
Bath Road latest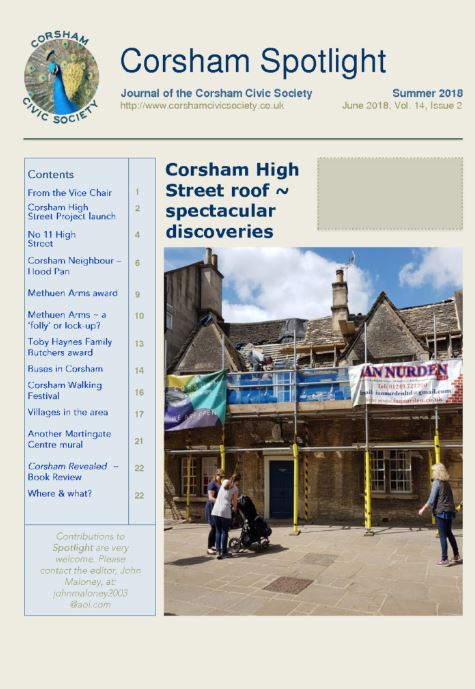 Summer 2018
From the Chairman
Corsham High Street project launch
11 High Street
Corsham Neighbourhood Plan
Methuen Arms award
Methuen Arms – a folly or a lock-up?
Toby Haynes Family Butcher award
Buses in Corsham
Corsham Walking Festival
Villages in the area
Another Martingate Centre mural
Corsham Revealed book review
Where and what?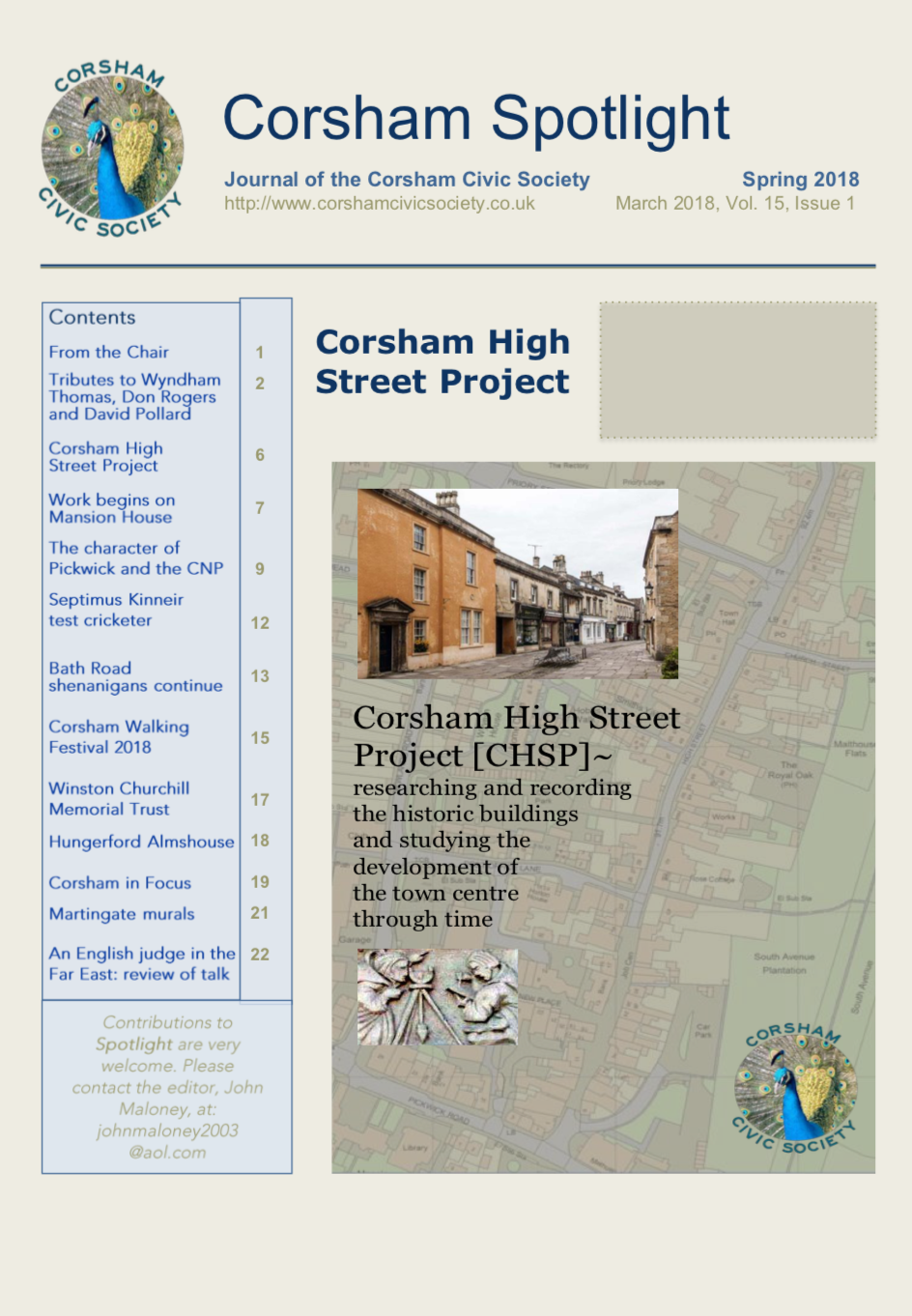 Spring 2018
From the Chairman
Tributes to Wyndham Thomas, Don Rogers, and David Pollard
Corsham High Street project
Work begins on Mansion House
The character of Pickwick and the CNP
Septimus Kinneir test cricketer
Bath Road shenanigans continue
Corsham Walking Festival 2018
Winston Churchill Memorial Trust
Hungerford Almshouse
Corsham in Focus
Martingate murals
An English judge in the Far East
From the Chairman
Mansion House and Localism
Mansion House and Archaeology
Land north of the A4
50 years of conservation areas
A 'planning' poem by John Betjeman
Corsham High Street project
Corsham shops and street signage project
A disaster on Box Hill
Corsham Civic Society artefacts
Corsham Civic Society outings
Corsham in pictures
Corsham in focus
The sources for the history of education in Wiltshire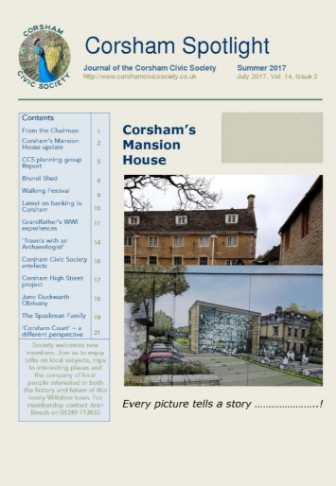 From the Chairman
Mansion House update
CCS Planning Group report
Brunel Shed
Walking Festival
Banking in Corsham
Grandfather's WW1 experiences
'Travels with an Archaelogist'
Corsham Civic Society artefacts
Corsham High Street project
June Duckworth obituary
The Spackman family
Corsham Court: a different perspective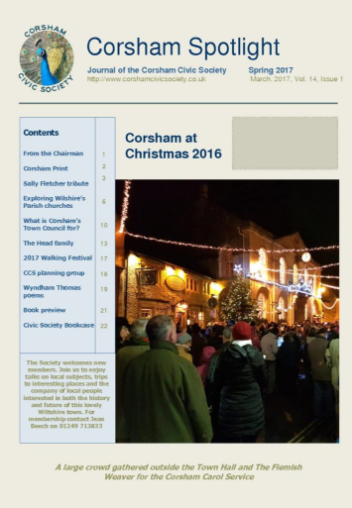 From the Chairman
Corsham Print
Sally Fletcher tribute
Exploring Wiltshire's parish churches
What is Corsham Town Council for?
The Head family
2017 Walking Festival
CCS planning group
Wyndham Thomas poems
Book preview
Civic Society bookcase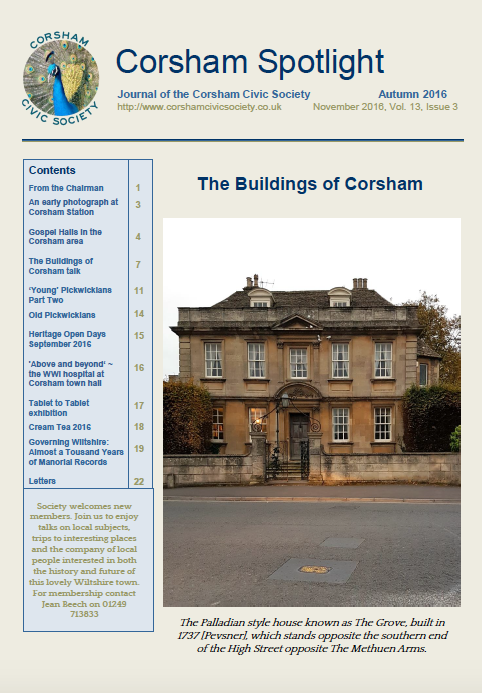 From the Chairman
An early photograph at Corsham Station
Gospel Halls in the Corsham area
The Buildings of Corsham talk
'Young' Pickwickians Part Two
Old Pickwickians
Heritage Open Days September 2016
'Above and beyond' – the WW1 hospital at Corsham Town Hall
Tablet to Tablet exhibition
Cream Tea 2016
Governing Wiltshire: Almost a Thousand Years of Manorial Records
Letters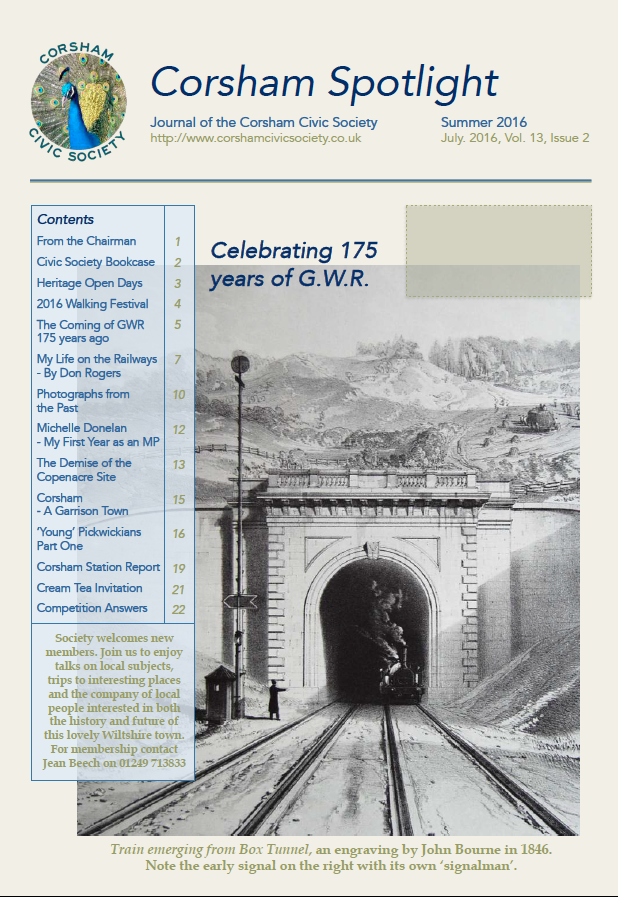 Heritage Open Days
2016 Walking Festival
The Coming of GWR 175 years ago
My life on the railways – Don Rogers
Photographs from the past
Michelle Donelan – my first year as an MP
The demise of the Copenacre site
Corsham – a Garrison Town
'Young' Pickwickians Part One
Corsham Station report
Cream tea invitation
Competition answers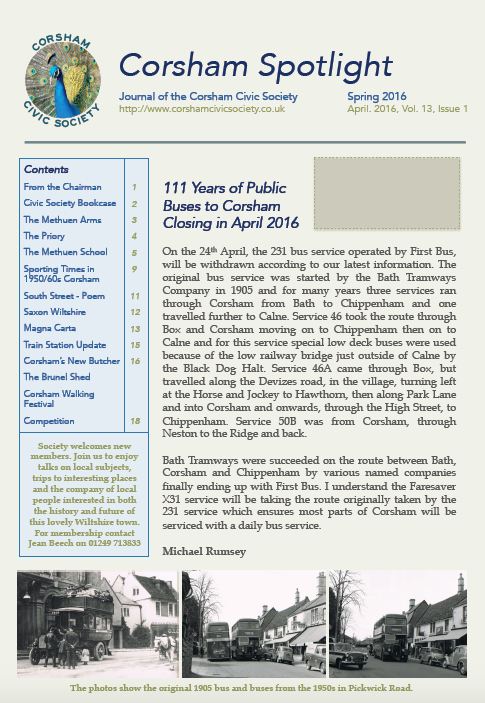 116 years of public buses to Corsham closing in April 2016
The Methuen Arms
The Priory, Corsham
The Methuen School
Sporting times in Corsham in the 1950s and 1960s
A poem about South Street
Cors-hamm? The Landscape of Saxon Wiltshire
Magna Carta: Origins and Outcomes
Corsham Station campaign update
Meet Corsham's new butcher Toby Haynes
The Brunel Shed
The Corsham Walking Festival
Name the location of the date plates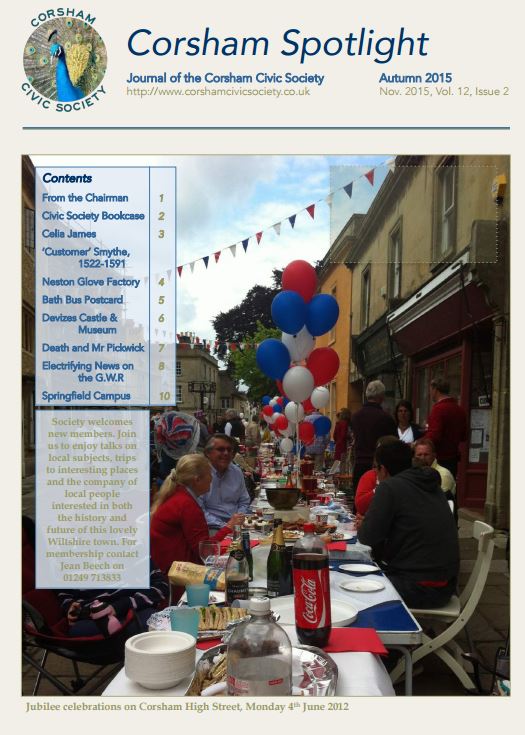 Civic Society bookcase
Celia James and the Carriage Drive gates
Thomas 'Customer' Smythe, 1522-1591
Neston Glove Factory
Bath Bus Postcard
The building of Devizes Castle
Death and Mr Pickwick
Electrifying news on the GWR
About the Corsham Springfield Centre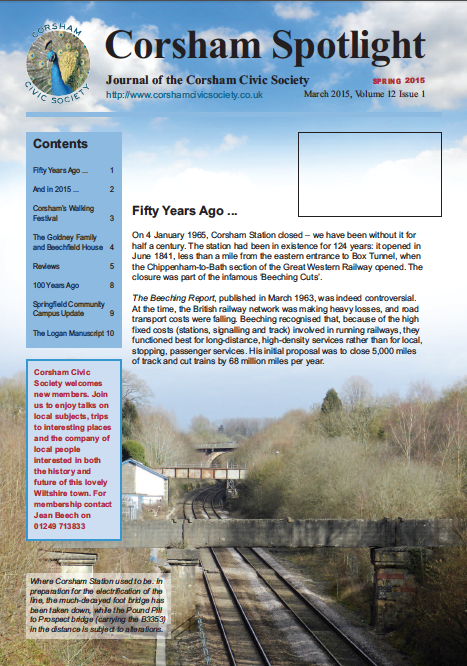 Fifty Years Ago…
And in 2015…
Corsham's Walking Festival
The Goldney Family and Beechfield House
Reviews
Election, 150 Years Ago
100 Years Ago – Corsham Commemorates WWI
Springfield Community Campus Update
The Logan Manuscript
2015 Programme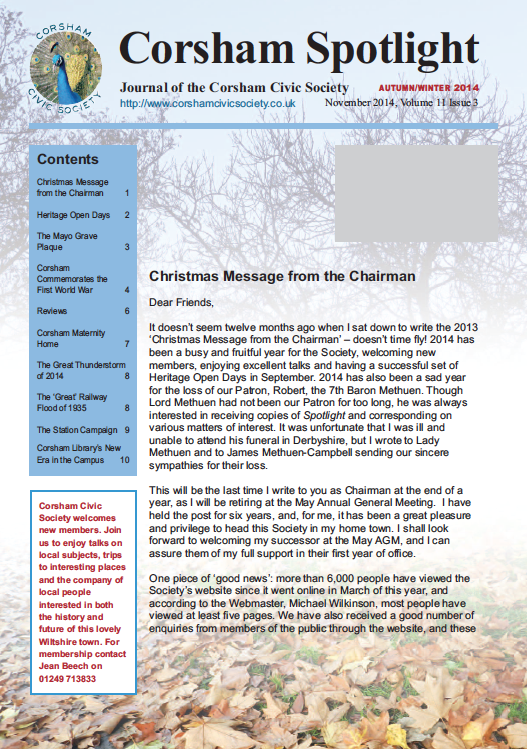 Christmas Message from the Chairman
Heritage Open Days (HODs) 2014
The Mayo Grave Plaque
Corsham Commemorates the First World War
Reviews
Corsham Maternity Home
The Great Thunderstorm of 2014
…and The 'Great' Railway Flood of 1935
The Station Campaign
Corsham Library's New Era in the Campus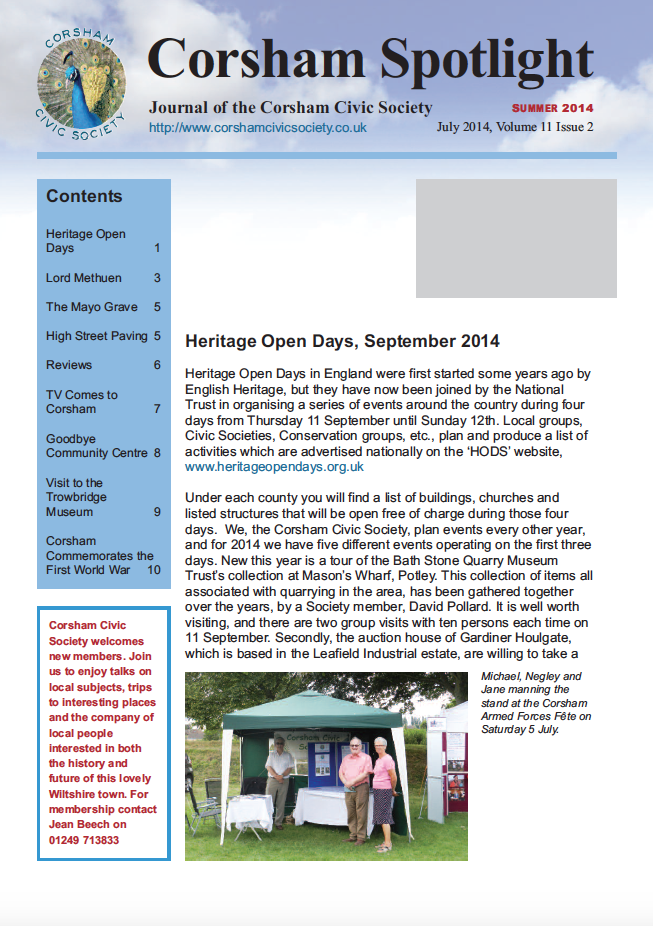 Heritage Open Days, September 2014
Lord Methuen, 1931–2014
The Mayo Grave
High Street Paving
Reviews
TV Comes to Corsham
Goodbye Community Centre …
Visit to the Trowbridge Museum
Corsham Commemorates the First World War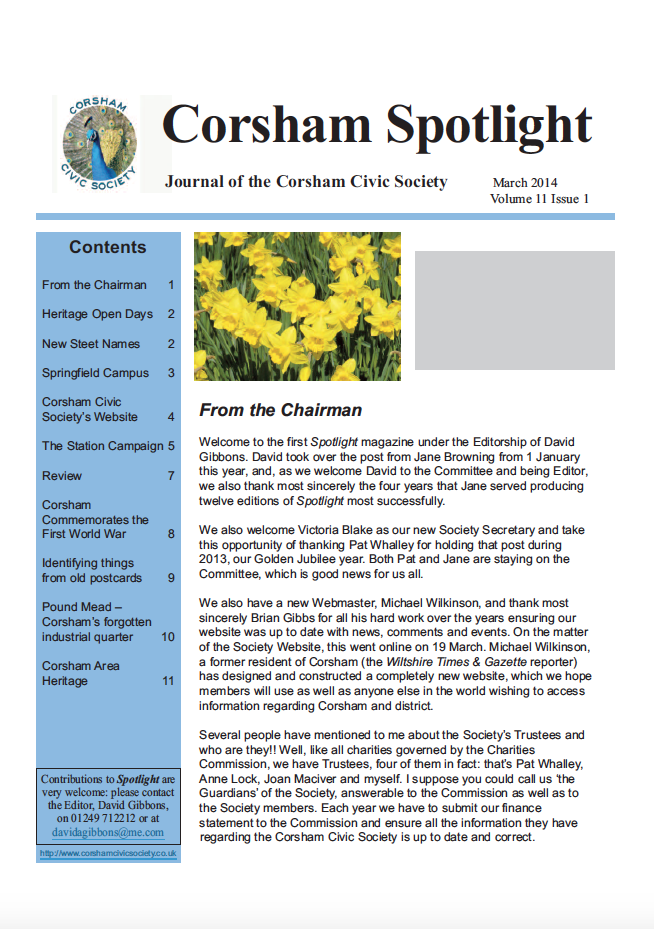 From the Chairman

Heritage Open Days, September 2014

New Street Names
Springfield Campus
Corsham Civic Society's Website
The Station Campaign
Review
Corsham Commemorates the First World War
Identifying things from old postcards
Pound Mead – Corsham's Forgotten Industrial Quarter
Corsham Area Heritage