My grandfather, Charles James Rumsey, was born in Hammersmith on Easter Sunday 1886 and at the age of 20, he was made redundant as a painter due to a recession. Because he was the oldest in the family, his father decided he needed to move out of the family home and find accommodation and work elsewhere. As his grandfather, William Rumsey, who was born in Melksham in 1827, had been a builder and had always spoken about Chippenham, William built the Bacon Factory chimney by the railway station, Charles decided to walk and work his way to the town that William had spoken so fondly of. It took him 3 months to complete his journey and on his arrival he soon found work and lodgings and in 1909 he married my grandmother, Mabel Watson.

On the 17th April 1917 he reported to the barracks in Devizes and became a soldier and was drafted into the Royal Naval Division as an Able Seaman.
Charles always smiled at the Regiment's title as he never went to sea apart from crossing the English Channel to serve in France.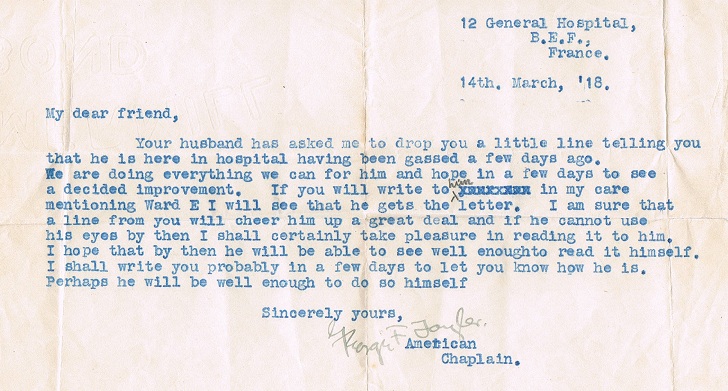 The next communication that was received at the family home in Park Street, Chippenham, was a post card of the hospital ship, the 'Carisbrook Castle' which brought Charles 'back to blighty' as he puts it. He spent months convalescing at Cotehill, on the outskirts of Carlisle, and my grandmother, together with my father, Stanley, aged 4, made the train journey there and stayed for a week which she spent visiting her husband. My father is reputed to have stood on a chair in the ward, and sang 'Stand up, stand up for Jesus' to the patients in the ward.
On the 4th February 1919 grandfather was demobilized and returned to Chippenham to start again as a painter and decorator which he did until his death in 1955, aged 69. Five members of the family served in the First World War and all returned home safely. The youngest brother, Victor, served on the Western Front for 4 years and was wounded twice and lived to the grand old age of 97. I was only 11 when Charles died, I wished I'd known him longer, he was a wonderful kind man and such a lovely grandfather.
Michael Rumsey