Genealogy is an interest of mine. Adding names to a family tree is fine but sometimes we need to look at the personal stories of the individuals. This voyage of discovery began last year when a cousin showed me a letter which had been retrieved from the effects of a great-aunt who died in the 1950s. A transcript of the letter is shown on page 7. I can just about remember the great aunt but neither my cousin nor I knew anything about the writer of the letter.
My daughter Helen Coombs joined me in the research. So what did we discover?
Frank Gerrish was born on 14th September 1883 at Priory Lane, Corsham, the son of William and Elizabeth Gerrish, formerly Harding. William Gerrish gave his occupation as a Slater. He was my paternal Great Grandfather. We don't know if Frank was baptised, but we know that the family used the Baptist Chapel opposite their house. Frank appears on the 1891 census aged 8 when living at 53 Priory Road, Corsham. His occupation is given as scholar. He is also on the 1901 census at 10 Ashcroft Cottages, Priory Road, Corsham, occupation Breadmaker. We established that he signed up to a seven year apprenticeship to A. Bird, Baker, of Corsham. Kelly's Directory for 1889 has an entry for Corsham: Bird, Alfred, Confectioner, High Street.
On 1st March 1906 Frank left Liverpool on the S.S. "Kensington". He was 22 at the time and declared that he had between £7 and £10 cash. He was able to read and write. The records show he had no distinguishing marks. The ship was bound for Halifax, Nova Scotia, Canada and Frank's ultimate destination was shown as Toronto. His occupation is shown as Confectioner but this has been crossed out and replaced by Farmer. The columns are stamped "British Bonus Allowed".
Did the alteration in the entry have any significance?
The British Bonus was a commission paid by the Canadian Government's Immigration Branch to steamship booking agents in the U.K. for suitable immigrants. The immigrants themselves did not receive the bonus. The Bonus was a subtle marketing tool used by the Canadian Government to encourage steamship booking agents to recruit suitable settlers (farmers, domestics, etc.). For most of the passengers on the Passenger List on which Frank Gerrish appears, the occupation the passengers have stated has been crossed out and "Farmer" written in. They are all stamped "British Bonus Allowed".
Frank arrived in Halifax, Nova Scotia on 13th March 1906. On 24th November 1907 Frank crossed the border from Vancouver to the United States. His occupation was given as "Confectioner" (not farmer). His last permanent residence was Calgary, Alberta and his father is shown as Wm. Gerrish, Corsham, Wilts. Frank's details were then 5′ 7" in height, Fair Complexion, Brown Hair and Blue Eyes. He is shown as being neither a Polygamist nor an Anarchist.
At some stage he must have crossed the border back from the U.S. to Canada because in November 1908 he crosses from Victoria, British Columbia to the U.S. again. That this is the same person is verified by reference to his original immigration into Canada and his place of birth.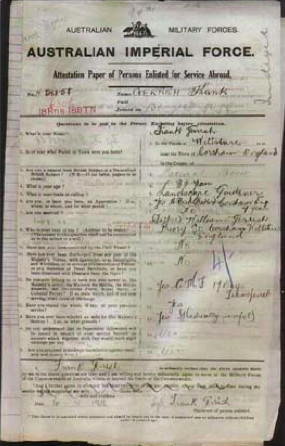 There is then a gap in the traceable records but on Monday 30th December 1916 he enlisted in the Australian Imperial Force at Show Ground Camp, Sydney, New South Wales, Australia. He gave his trade as Landscape Gardener. He had a scar (tattoo) on his left wrist (did he gain this whilst at sea?). Oddly, he is not on the 1910 Australia Census, 1910 U.S. census or the 1911 Canadian Census. In response to the question "Have you been an apprentice?" he says "Yes, A. Bird(Baker) Corsham, England, 7 years". On 11 November 1916 he embarked from Sydney and disembarked at Devonport, England on 30th January 1917. His description was given as 5'7 1⁄4 inches, 122lb in weight, his complexion was fair, he had blue eyes and brown hair.
He was sent from Folkestone on 2nd May 1917 and arrived in France on 3rd May 1917. He was hospitalised in France on 13th July 1917 and rejoined the battalion (in France) on 19th September 1917. His Army Record is recorded in great detail, on a typed Army Form B 103, showing Regimental No. 6306: all this in the middle of a bloody war. The final entry on the form is dated 6th October 1917 "Killed in Action".
On 6th October 1917 the 18th Battalion, to which Frank belonged, was engaged in the Battle of Broodseinde, part of the Battle of Passchendaele. There were 20,000 casualties on each side. Three days of heavy rain turned part of the ground into a morass. The overall result was British and Commonwealth troops advanced 1,000 yards.
Frank's father was sent a package containing his effects and these were acknowledged by William Gerrish of Priory Street on 22nd February 1918. William returned a hand-written note "Can you please tell me what became of my son's bible and watch which were not returned?". The reply was that no official report had been received concerning these items.
Nine Victoria Crosses were awarded during the Battle of Broodseinde.
Frank Gerrish has no known grave. He is commemorated on the Ypres (Menin Gate) Memorial in Belgium.
Inside the arch of the Memorial, on tablets of Portland Stone, are inscribed the names of 56,000 men who served in the Ypres campaign and have no known grave. The Menin Gate Memorial was opened on 24th July 1927 and since then, with the brief interval of the German Occupation in the Second World War, the City of Ypres has conducted a ceremony at the Memorial at dusk each evening to commemorate those who died in the Ypres campaign. Frank Gerrish's name is located at panel 85 at the Australian War Memorial.
Colin Coombs