Fifty Years Ago …
On 4 January 1965, Corsham Station closed – we have been without it for half a century. The station had been in existence for 124 years: it opened in June 1841, less than a mile from the eastern entrance to Box Tunnel, when the Chippenham-to-Bath section of the Great Western Railway opened. The closure was part of the infamous 'Beeching Cuts'.
The Beeching Report, published in March 1963, was indeed controversial. At the time, the British railway network was making heavy losses, and road transport costs were falling. Beeching recognised that, because of the high fixed costs (stations, signalling and track) involved in running railways, they functioned best for long-distance, high-density services rather than for local, stopping, passenger services. His initial proposal was to close 5,000 miles of track and cut trains by 68 million miles per year.
The British railway system had reached its zenith just before the First World War, with 23,440 route miles of track. But gradually road transport – cars, buses and lorries – began to whittle away at the economics of the railways, together with bungled political and administrative decisions. The demands of the Second World War came as a reprieve, but this was temporary, and the system emerged in a worn-down condition and with a lack of investment. By the 1960s, motor transport, and the beginning of motorways, appeared to many as the solution to Britain's communications problems.
In the event, more than 4,000 miles of track were closed, and some 3,000 stations in the decade following the report (25% of the route miles and 50% of the stations). Corsham was one such station.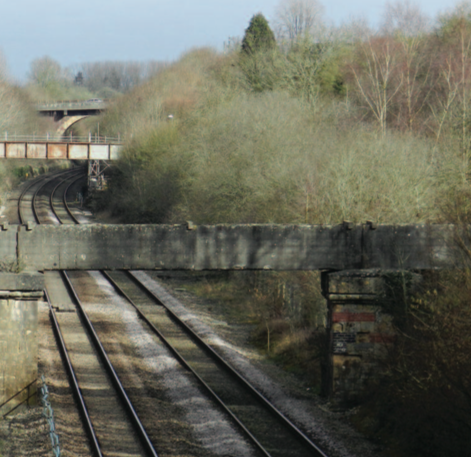 And in 2015 …
Some background first: in January 2014 (almost 28 years after the Civic Society formed a subcommittee to campaign for the reopening of our Station) a short update was presented to the Town Council – it was felt important that they understood the implications/importance of a Government announcement, in December 2013, of its support for the construction of a new railway line from Bedford to Cambridge, an addition to the already proposed East–West Rail Project, completing the creation of a London–Cambridge-–Oxford rail- linked high-tech triangle. That same January 2014, our MP, Duncan Hames, received a response from Stephen Hammond, the Parliamentary Under Secretary of State at the Department of Transport, in which he said that 'should the West of England Partnership succeed in introducing an additional local service between Bristol and Bath, it would be possible to extend one service an hour to Corsham, with a turnback at Chippenham …' The Minister continued: 'I recognise that you have been a long-standing supporter of a new station at Corsham … we are always happy to provide guidance and advice to local authorities should they so wish …' By September 2014, Duncan had brought together a group of ten MPs, all with constituencies bordering the line, to lobby for the reintroduction of a Bristol–Oxford rail service. A joint letter was sent to the Secretary of State, the Rt. Hon. Patrick McLoughlin, requesting his support for its reintroduction, and they later met him to press their case. More recently it has been confirmed that the rail infrastructure around Bath could accommodate a local service to Chippenham and a service to Oxford, the latter being a longer-term aim.
Here in Corsham, the Society's Station Campaign has welcomed an invitation to join the newly-formed TransWilts CIC (Community Interest Company). Melksham Station's passenger numbers continue to rise and have far outstripped their first year target – indeed they have all but hit the passenger figures for Year 3! Paul Johnson, as Chairman of TransWilts, has since met Ruth Hopkinson, Chairman, and Peter Pearson, Vice Chair, of the Town Council. He has also produced an overall plan that could take the Corsham proposal through Network Rail's GRIP process (see last year's Autumn issue of Spotlight) – an intricate and detailed system by which any rail proposal is minutely assessed from every angle.
In the meantime, Wiltshire Council have tasked their Consultants, Atkins, to produce an Economic Feasibility Study to GRIP Stage 1. It is intended that the Atkins Study will build upon the one produced by Wiltshire County Council in 1999/2000, which led to the successful bid for Rail Passenger Partnership funding – a funding stream that was subsequently curtailed UK wide. It is worth noting that in Hampshire their scheme to reopen Chandler's Ford Station continued because Hampshire were prepared to shoulder the £2m cost of their station's construction. As a result, in good faith the Strategic Rail Authority kept to their side of the bargain, funding the service and staffing of the station for three years. That service has proved very successful – as we believe investment in a reopened Corsham Station would also be.
Anne Lock